Deltaco Baltic
If You have login - please login here.
---
Dear Customers,
We would like to inform you that due to the extremely increased volumes of orders and shipments, both we and our warehouse and parcel delivery partners (DPD and VENIPAK) are facing extremely high challenges and loads. Due to this, the delivery of your shipments is delayed - your ordered shipments will be delivered, but with a slight delay - within 1-3 days.
Be patient, plan your orders in advance and most importantly - stay healthy and safe! :)
We apologize for the inconvenience,
Deltaco Baltic team
---
June 2, 2020
Dear Customers,

we want to inform you that effective June 3, 2020, DPD UKD (custom stevedoring) again becomes an optional rather than a mandatory service.
This means that you can choose delivery with or without UKD.

What is Custom Stevedoring (UKD)?

Guaranteed delivery from the vehicle to the premises at the delivery address. *
Neither the Sender nor the Recipient is present when carrying the packages.
The service is performed by two DPD employees.

The service applies when one package weighs 31.5-80 kg or the consignment consists of many light packages (up to 31.5 kg).

* During the quarantine period, consignments are delivered to the door of an apartment or private house.

IMPORTANT: if the Custom Stevedoring (UKD) is NOT ORDERED in advance for a shipment that is heavier than 31.5 kg, the consignee MUST unload the shipment from the DPD vehicle himself and arrange for it to be taken to the premises.

UKD rates:

EUR 14.48 + VAT for a consignment weighing up to 80 kg;
EUR 11.58 + VAT for each additional 50 kg.
The full text of the DPD message: http://dpdlietuva.naujienlaiskiai.lt/email/-Uzsakomuju-krovos-darbu-pakeitimai-10237888/0/m7s5/4098693004/
---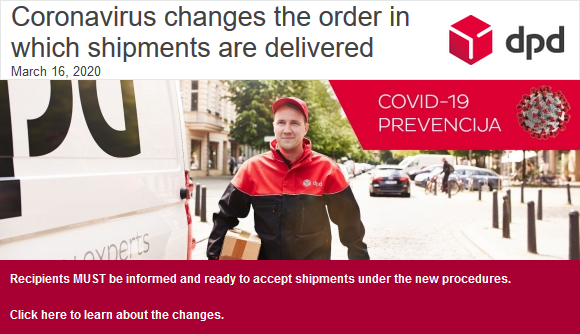 For new customers
Are you looking for an HDMI cable or an external battery?
TV bracket, keyboard or smart watch?
Or maybe you needed a washing machine or a refrigerator?
If you answered YES to at least one of these questions, then visiting our website ir right move! And even more - you will find what you did not know you need!
More information about us can be found here: http://www.deltacobaltic.eu/about-us
3 main reasons why it is worth us to meet and cooperate:
Assortmert is extremely broad and deliberate, based on market goods.
Competitive prices.
We entitle the professional advice and take responsibility for their products distributed in expressing this standard or extended warranty.
How to buy our products?
If you are a legal person (company), please contact us and we will provide access to corporate client system.
If you are an individual, please see our trade partners' stores:
We are representing following trademarks:
Accessories:

White goods:

Reliability
By purchasing our products distributed, rest assured that You get not only great value for money, but reliability and longevity of the manufacturer warranted:
"Deltaco brand cables is given Lifetime warranty.
Other "Deltaco brand products 5 years, and" Streetz "- 2-year warranty.
Large and small home appliance products are provided with a standard 2-year warranty.